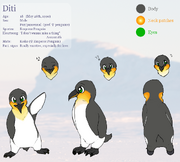 A reference sheet is a drawing of your character from specific viewpoints. It's an important help for designing your fursuit.
If you buy patches of the fur before choosing the colors of your character, you'll have the advantage of knowing what the actual fur looks and feels like. You also gain knowledge which fur color might pose a problem to get and if two kinds of fur look good side-by-side.
Self-made
Edit
Draw your character at least, from the front, side and the back. Point out specific features you want to add to the fursuit.
Commissioned
Edit
Many artists are willing to provide a drawn reference sheet for a small amount of money. Some of them might even do a 3d model, which can make modeling much easier.